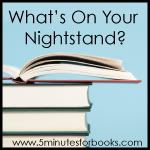 After I agreed to be a part of the
5 Minutes for Books
team,
Jennifer
sent me a wonderful package of books. She included one book in the Samantha
McGregor
series by Melody Carlson. I'm glad Jennifer thought I'd like it, because I really did. I devoured that book, and told her I'd like to read the entire series. Soon afterwards, I found the rest of the series on my doorstep!
I'm currently in the first book,
Bad Connection (The Secret Life Samantha

McGregor

, Book 1)
. I was glad to get the first one, so I could get Samantha's story from the beginning. God gives Samantha visions to help her solve and prevent crimes. It's definitely a different genre for me, but I've been pleasantly surprised.
I won't say anything else. Stay tuned...I'll be reviewing this series soon.
You can click over to
5 Minutes for Books
to see what others have on their nightstands.