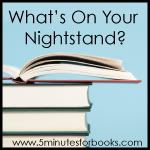 I don't do much reading in December because I'm usually camped out in front of the TV overdosing on
Fa La La La Lifetime
,
ABC Family's 25 Days of Christmas
, and Hallmark's
Countdown to Christmas
. Every once in a while, I'll forego the sappy holiday movie in favor of a sappy holiday book.
This year, I'm making a few exceptions. My December reading goals are:
~
Going Rogue: An American Life
by Sarah Palin. Just waiting on my library to process it. I'm looking forward to reading this book more than any I've read in a long time.
~
Learning to Live Financially Free: Hard-Earned Wisdom for Saving Your Marriage & Your Money
by Curt & Mary Beth Whalen. I've already read and
reviewed
this one, but it's taking on a whole new meaning these days.
~
Preparing for Jesus: Meditations on the Coming of Christ, Advent, Christmas and the Kingdom
by Walter Wangerin, at the recommendation of my good friend
Joanne
. This will be my morning devotion reading.
~
Home for the Holidays: The Forgetful Bride\When Christmas Comes
(What...you didn't think I'd include at least
one
sappy holiday book?!)
So, what about you? Do you read in December? If you want to play along, head on over to
5 Minutes for Books
and link up.