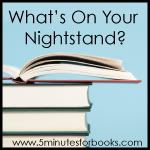 Just Finished:
~
Women's Ministry in the Local Church
. I cannot recommend this book enough. This thought-provoking, Biblical approach to women's ministry goes beyond the current fluff served up to women.
Currently Reading:
~
Jayber Crow
. My first time reading Wendell Berry. I'm loving the rich language of this book, even though it's not a fast-paced read.
~
The Holiness of God
. Wow.
~
Spiritual Depression: Its Causes and Cure
. I'm working my way through this one slowly. It's not a light read, but it's heaviness is rich wisdom.
For Advent:
~
Through the Year with Martin Luther: A Selection of Sermons Celebrating the Feasts and Seasons of the Christian Year
. Luther's capacity to gain so much information and insight from a few words of Scripture constantly astounds me.
~
Come, Thou Long-Expected Jesus: Experiencing the Peace and Promise of Christmas
. I want to begin this one on December 1st so that I can read it right up until Christmas, but waiting is
so
hard.
Up Next:
~
The Chosen
. I've heard raves about this one. Anyone read it?
~
Margin: Restoring Emotional, Physical, Financial, and Time Reserves to Overloaded Lives
. Because I need this.
So badly
.
~
A Way with Words: What Women Should Know about the Power They Possess
. Because I need this one, too.
So badly
.
You can see what others are reading
here
.