My reading quilt has been relegated to its summer place, resting until cool nights once again descend. My reading tapers off as the days grow longer. Still, there's plenty of good reading on my nightstand.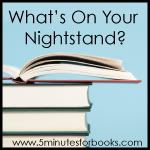 Finished:
~My Cousin Rachel
by Daphne du Maurier. A suspenseful delight. Not as chilling as du Maurier's best known work,
Rebecca
, but worth a look.
~
What is Reformed Theology?: Understanding the Basics
by R. C. Sproul. A book I felt I needed to read. I was right.
Currently Reading:
~(Audio)
Bonhoeffer: Pastor, Martyr, Prophet, Spy
by Eric Metaxas. I must confess, I checked this out of the library on two separate occasions. I just couldn't get through it, despite my interest in this intriguing story. A friend had it on audio, so I borrowed it. This is my first foray into books on CD, and I like it.
~(Kindle)
A Place for Weakness: Preparing Yourself for Suffering
by Michael Horton. In preparation for
this book discussion.
~
Loving the Church
by John Crotts. Not quite what I expected, but something I really need right now.
Up Next:
~(Kindle)
Lady Susan
by Jane Austen. It's been entirely too long since I've read something by Jane!
~
Nine Marks of a Healthy Church
by Mark Dever.
What are
you
reading? Link up your list at
5 Minutes for Books
.