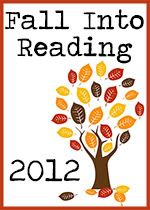 Katrina's
Fall Into Reading Challenge 2012
is underway. I'm not going to be lazy and just send you to the
Fall Reading List
I posted last month. I'm listing them again, with a few updates. I've omitted the books I've completed or nearly completed since August, and added a couple for review.
Non-Fiction:
~
Kisses from Katie: A Story of Relentless Love and Redemption
because her story touches me to the core.
~
The Nine Day Queen of England: Lady Jane Grey
because her story intrigues me
~
Bringing It To The Table: On Farming and Food
because my granddaddy was a farmer & Wendell Berry's writing captivates me.
Fiction:
~
Little Women
because it's been too long.
~
Home
because
Lisa
recommended it.
~
Fahrenheit 451: A Novel
because it's required for my girl this semester.
On Audio
:
~
John Adams
because I admire him.
~
A Room With a View
because I know I'll be craving something British.
~
Pride and Prejudice
just because.
For Study:
~
Gospel Wakefulness
because I need it.
~
In Christ Alone: Living the Gospel Centered Life
because my life needs a shift in focus.
~
Practical Theology for Women: How Knowing God Makes a Difference in Our Daily Lives
because I need a difference.
~
Modest: Men and Women Clothed in the Gospel
because this topic has been on my mind lately.
For Review:
~
The Life of God in the Soul of the Church: The Root and Fruit of Spiritual Fellowship
because the title intrigued me and you can't go wrong with Thabiti Anyabwile.
~
Helen Roseveare: On His Majesty's Service
because listening to
The Poisonwood Bible
made me want to learn about an actual missionary in the Belgian congo.
With the exception of books I plan to study, that's 1 book in each category per month. I'm thinking this is manageable, especially since some of the books are short or written for children. We'll see how it goes!