In March, the Lord
pushed
led me to approach the 40th year of my life from a new viewpoint. To quote Patti LaBelle,
I've got a new att-i-tude
. You may have noticed this cute "40 by 40" button on my side bar, courtesy of
Boomama
. Click here to read the first post, which introduces the 40 by 40 Plan.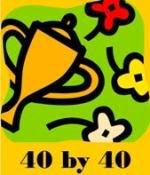 I said it then, and I'll say it now, this is
definitely
a GOD thing!
The Scriptures are listed in a sidebar link. God's been so good!
Several friends (bloggers and at home) have jumped in on the Scripture memory part of the challenge. Unfortunately for me, most of my friends are stick thin and didn't need to join me in the weight loss challenge ;p So, while I've been doing Weight Watchers on-line, it's been pretty lonely & I've only had moderate success (10 pounds since mid-March). Honestly, I was close to throwing in the towel, and then I found out about this great new blog, Tales from the Scales. You can click on this button to read about the challenge, from May 8th - September 18th.
So, now I've got a blogging support group! I'm so excited to have a place to go and read others' struggles, ideas and success stories.
I won't even go into how I got where I am. Suffice it to say that too much chocolate, too many runs through the W*endy's drive-thru, and not enough exercise have been the major contributors. But I'm learning to change those habits (well, not so much the chocolate thing!) I've become addicted to 100 calorie snack packs. I've drastically cut my fast food visits. I've started walking more. Small changes I can live with for the rest of my life, instead of huge sacrifices that I'll come to resent.
My goal is to lose 20 pounds by September 18th. (I'd like to do more, but I also want to be realistic and not set myself up for failure.) I'll be posting my results each Wednesday, along with a verse to remember. Hope you'll be joining me!
Melissa