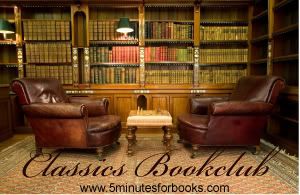 Well, I'm terribly late to the party...the
new Classics Bookclub signup
at 5 Minutes for Books. We're shaking things up a bit, and allowing
you
to choose which classics you want to read. Since Classics can be a little daunting, I'm thankful we only have to read one a quarter. Here's my list, in no particular order.
Villette
. This lesser known work of Charlotte Bronte's looks more interesting to me than Jane Eyre (although I should probably give Jane Eyre another chance.)
Anne of Green Gables
. My daughter got a Barnes & Noble gift card for Christmas, and I promptly talked her into buying Anne. I think I'll suggest that we read it aloud this winter. What a fun treat for both of us!
Little Women
. CJ is reading the Classics Start version of this now. We recently watched the movie together. I love the March girls, and can't wait to re-read this one.
Sense And Sensibility
. Alas, I haven't read anything by Dear Jane in a while. I barely remember this one (though I watched the Emma Thompson movie not too long ago.) I'm looking forward to digging into this one, too.
Are you up for the challenge? Let me know, and be sure to
sign up
at 5 Minutes for Books.