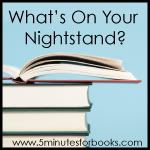 The
reading plan
was a good idea. Not
successful
, but good.
Interruptions aplenty - two blog tours I couldn't resist, a library request fulfilled, and a husband who wants my opinion on a book he's reading for a class - have pushed my February plan aside and caused me to reorganize. Here are the results:
Finished in February:
Walking with Lincoln: Spiritual Strength from America's Favorite President
- The one book on my list I managed to read - at least a portion of it. I didn't finish it because it wasn't what I'd expected. The short chapters read more like a devotional than a biography, which wasn't at all what I'd had in mind.
The Mountains Bow Down
- I've
documented my love for Raleigh Harmon novels
. When this blog tour was announced, I could not resist. I'm so glad I didn't, and am looking forward to sharing more on upcoming the tour.
Coming up in March:
Bonhoeffer: Pastor, Martyr, Prophet, Spy
. After hearing so many raves on this one, I requested that my library purchase it. I had no idea it would come in so quickly, though. I was thrilled to pick it up this weekend, even though it's 500+ pages.
Tough Choices: A Memoir
. R is reading this for a business class, and asked for my perspective. In 18 years, he's never asked me to read a book along with him, so I jumped at the chance. So far, it's been an interesting read.
What's It Like to Be Married to Me?: And Other Dangerous Questions
. This is another tour, and one I really wanted to participate in. I'm looking forward to cracking this one open. Maybe I'll even be brave enough to ask my husband the questions.
I would still like to get to
Margin: Restoring Emotional, Physical, Financial, and Time Reserves to Overloaded Lives
and
Amy Inspired
, but I'm not sure that's realistic. Still, a girl can dream.
Visit
5 Minutes for Books
to see what others are reading this month.