Cucumber and squash plants heavy with their fruit clamor for my attention. The tomatoes will soon follow. The cool clear water of the pool beckons. The friendly fellowship of church softball games, too inviting to ignore.
Books lie nearly forlorn on my nightstand.
Since
last month
I've completed:
~
Bonhoeffer: Pastor, Martyr, Prophet, Spy
(audio). A long, but fascinating read. I admit, I probably never would have finished it if it hadn't been for the audio book. I'm glad I did.
~
Hotel on the Corner of Bitter and Sweet
(audio) Oh, how I loved the tender story of Henry & Keiko!
~
The Sweetness at the Bottom of the Pie: A Flavia de Luce Mystery
. Flavia de Luce is a delight!
I've tried:
~
The Sisters from Hardscrabble Bay.
I didn't get past the first few pages. I had looked forward to this one, but I could not get past the repetitious foul language.
~
Reading Lolita in Tehran: A Memoir in Books
. This one didn't grab me, either. I may try again later.
~
Mansfield Park
(audio). I love the story of Fannie Price, but I'd rather read it than listen to it. I prefer to listen to narrative stories, rather than one person tackling many character's voices in dialogue.
I've picked up:
~
March
(audio). The story of Mr. March, the absent father in
Little Women
. It's a story full of beautiful prose, heartache and humor.
~
The Rural Life
. Rich essays celebrating life away from the noise of the city.
I'm still reading:
~
A Place for Weakness: Preparing Yourself for Suffering
(Kindle). Michael Horton has caused me to think much about my view of suffering. I'm taking this one slow, because
it's been very timely for me
.
And soon I'll start:
~
Soul Surfer: A True Story of Faith, Family, and Fighting to Get Back on the Board
. CJ asked me to read this one with her.
~
The Organized Heart: A Woman's Guide to Conquering Chaos
(Kindle).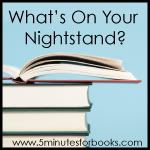 Visit
5 Minutes for Books
to see what others are reading this summer.