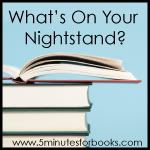 It's been a while since I've participated in What's On My Nightstand, but I've read so many good books lately that I wanted to share:
Finished:
The Murder at the Vicarage (Miss Marple Mysteries)
. This is the first Miss Marple book, and it's a delight. I'd forgotten how sharp Agatha Christie's wit is.
Village School (The Fairacre Series #1)
. The first Miss Read book I've read, and I thoroughly enjoyed it. I was disappointed to find my library doesn't have more of this series, but I hope to find them somehow. I'd love to visit Fairacre again.
I Capture the Castle
. In a month of good books, this was probably my favorite. I loved this rich story of Cassandra and her family.
Currently Reading:
The Envy of Eve: Finding Contentment in a Covetous World
. Full of convicting truths, this book is a must-read for women - even those who think they don't struggle with discontentment.
According to Plan: The Unfolding Revelation of God in the Bible
. I'm reading this along with the
Book Club at Desiring Virtue.
I need a good introduction into theology.
Uncompromising: A Heart Claimed By a Radical Love
. I'm using this as a basis for Sunday School lessons with my Jr. High girls.
The Distant Hours
. I've seen a lot of bloggers talking about Kate Morton, and couldn't resist any longer.
Up Next:
A Woman's Wisdom: How the Book of Proverbs Speaks to Everything
. After reading rave reviews of this one, I knew I needed to read it.
The Thirteen Problems.
The second book in the Miss Marple series, and it looks like fun.
Be sure to check out others' lists at
5 Minutes for Books
.